SeeDs of Pandora
Final Fantasy VIII: SeeDs of Pandora is the 78th FREE community arrangement album from OverClocked ReMix. In the theme of a world ravaged by war and strife, the goal of SeeD is to bring peace to the world, unite its people and defeat the sorceress. To that end, this album arranges music from this classic, dark-horse entry in the Final Fantasy series in a wide array of cultural elements, unique styles and sheer passion for Nobuo Uematsu's work. It features 80 tracks arranged by 97 artists and was released on May, 8th, 2023.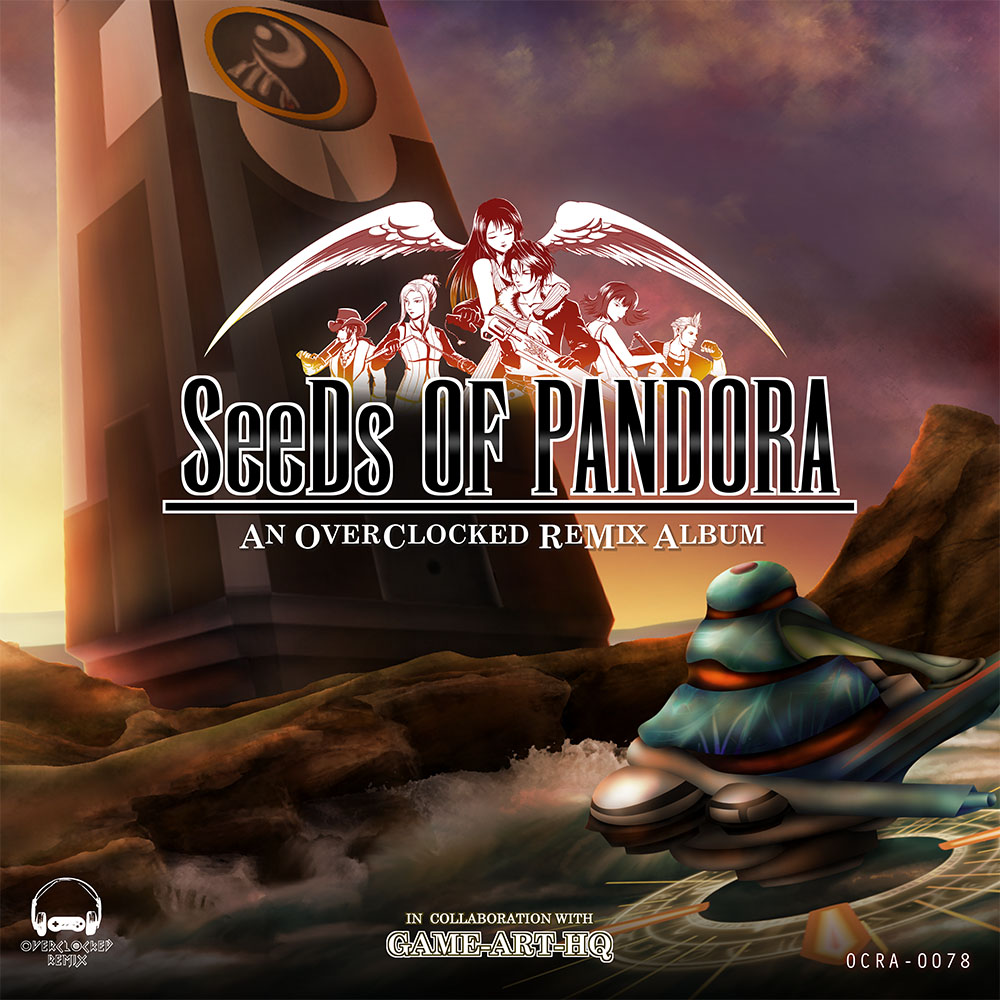 Director Comments
We were given the unique opportunity to direct a defunct FFVIII OC Remix album project by DJPretzel and Liontamer themselves! It was attempted once, but for reasons, it fell through. Despite this, we were given the chance to revive this album - it being the last Final Fantasy of the Playstation era not to have an OC ReMix album. Darkflamewolf sketched out a compelling vision and tracklist suggestion for each disc while Jorito went recruiting - with an end goal of about a year to complete the entire project. We managed to interest a lot of people from the VGM community, with a good mix of OC ReMix veterans, people from other communities and newcomers.
Coming back to the series after being gone from it for so long was like coming home and Final Fantasy VIII seemed to be this perfect welcoming party of a game for everyone. People had a fondness and love for its characters, its world and its music. The intent with this album was to embrace the remix aspect of OC ReMix fully and to interpret the original melodies in ways you might not have heard before. Our goal is to provide something new and transformative with these songs. Kudos to all the talented people who helped make this album a reality! It was a joy working on this and seeing it come together.
Now the album has been tailored to be a thematic experience from disc 1 all the way through disc 4 (and beyond to the surprise disc 5), starting off slow just like Final Fantasy VIII does, before ramping up to action set pieces, then calming down to some wild and diverse gameplay experiences and finally ending strong. However, you can listen to the album in any order for any mood you're feeling. Whatever works for you. Ultimately, we hope you enjoy this album and its fresh new take on the music of Final Fantasy VIII and may it always rekindle your fond memories of your time playing it. From the SeeDs of Pandora team to you: Happy listening!
- Darkflamewolf and Jorrith "Jorito" Schaap
Download
Downloading the album using BitTorrent is the best option - it helps us save bandwidth and gives you the option of downloading MP3, lossless FLAC files, or both by selecting which files to grab in your BitTorrent client.
OverClocked ReMix
Founded in 1999, OverClocked ReMix is an organization dedicated to the appreciation and promotion of video game music as an art form. Its primary focus is ocremix.org, a website featuring thousands of free fan arrangements, information on game music and composers, resources for aspiring artists, and a thriving community of video game music fans.
OCRは1999年に創立されて、ゲーム音楽への感謝、保存、演出に専念するための組織です。OCRの主要な活動は ocremix.org で見つかるインターネットサイト。このサイトに数百のゲーム音楽好きに作られたリミックスのMP3と、ゲームの音楽と作曲家の情報と、音楽家を熱望している人のための供給源と、にぎやかなゲーム音楽のファンがいっぱいいます。
All original compositions and characters from this album are copyright their respective owners. Arrangements are available under the OverClocked ReMix Content Policy terms of use.